About Us
At Saigon Red Sky, we specialize in serving authentic Vietnamese Cuisine to the Calgary area. Our dedication to providing exceptional service and using only the freshest ingredients is what makes us your destination for Vietnamese Cuisine! Our flavourful menu features an incredible selection of appetizers, beef rice noodle soup, Saigon Sky specials, rice vermicelli, rice dishes, shrimp, beef, chicken, stir-fried noodles and thirst-quenching beverages. Come experience authentic Vietnamese Cuisine like never before and try one of our many delicious dishes including the Stir-Fried Chicken with Red Pepper, Green Pepper, and White Onion, Fried Egg Grilled Pork Chop on Steamed Rice and the Curry Beef Rice Noodle Soup!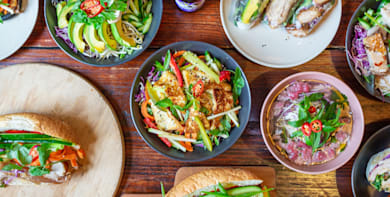 Reviews
Natalia
"Super delicious as usual!!! Thanks a lot!!!"
2022-01-15
Samantha
"spring rolls were cold and chewy"
2021-12-30
Shuko
"Very fast!!"
2021-12-11
Elizabeth
"soup was all over the bag because the lid broke, the entire top was in the soup and the rim of the lid was still on the container."
2021-12-09
Contact Us
Find Us
176 Bedford Drive Northeast, Calgary, AB, Canada, Calgary, T3K 2M9
Opening Hours
Monday
11:00 AM - 8:00 PM
Tuesday
11:00 AM - 8:00 PM
Wednesday
11:00 AM - 8:00 PM
Thursday
11:00 AM - 8:00 PM
Friday
11:00 AM - 8:00 PM
Please note, delivery times may vary.
We deliver to
T1Y, T2A, T2B, T2C, T2E, T2G, T2J, T2K, T2L, T2M, T2N, T2P, T2S, T2Z, T3A, T3B, T3G, T3J, T3K, T3L, T3N, T3P, T3R, T4A, T4B